RF aircraft

Thanks to our partnership with WorldLinX Alliance, AMP VISUAL TV has two BEECHCRAFT B200 relay aircraft at its disposal.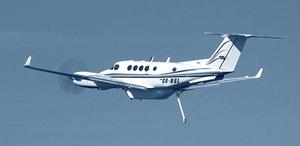 These aircraft have pressurised cabins and can fly at an altitude of up to 33,000ft  (which means they can operate in any weather conditions).
Flight speeds are between 180 and 550kph.
The aircraft are each equipped with a cargo pod able to accommodate up to 7 motorised-casing, GPS-servo-controlled antennae.
One 2.5-metre mast with motorised-casing, GPS-servo-controlled antenna for live transmissions at distances of 100km.
18 UHF/VHF antennae for communications and GPS.
Two identical aircraft to ensure redundancy.
All the equipment is EASA certified.