About AMP VISUAL TV
As a specialist in TV Coverage, AMP VISUAL TV provides services throughout the production process for live programmes and those produced under live conditions. It has at its disposal one of the most extensive European fleets of OB vans for filming on location, and around forty studios in the Paris region.
More than 500 employees assist our clients in devising, designing and carrying out filming, transmission and broadcasting of programmes destined for every screen format.
There for you every step of the way
Armed with its indisputable 30-year experience in television filming, AMP VISUAL TV has always strived to guide its clients in technological developments. Today, we master all the stages involved in producing programmes that meet consumers' expectations.
COVERAGE TV STUDIOS RF RESOURCES
TRANSMISSIONS ENHANCEMENT SECOND SCREEN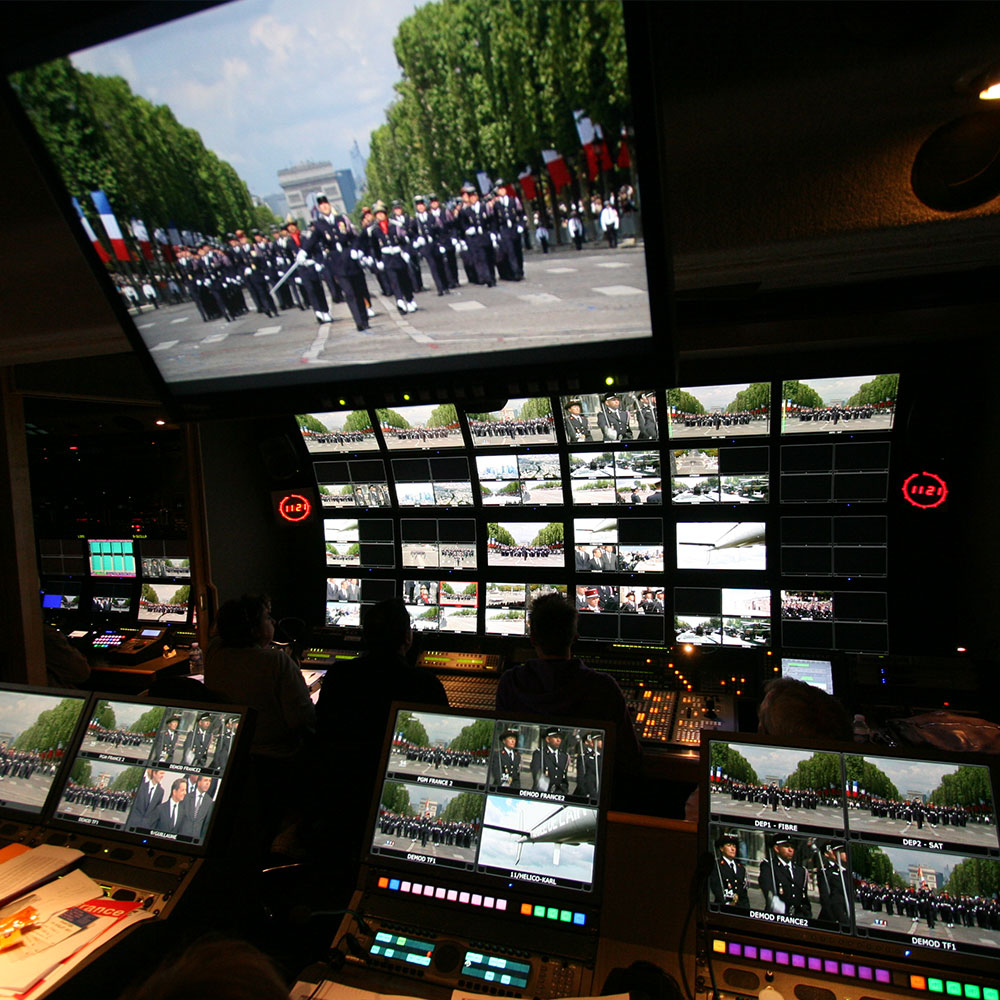 A personal journey,
a story of passion
Since 1986, the company has united faithful and enthusiastic teams. They have succeeded in developing a unique mindset based on commitment, drive, curiosity, imagination and pursuit of excellence.
1986...
AMP and VISUAL TV were created in 1986 on the Atlantic coast: VISUAL TV in Nantes by Louis Deniel and Philippe Monteau, AMP in Les Sables d'Olonne by Gilles Sallé, current Chief Managing Director of the company. After competing against each other for over twenty years, the two companies merged in 2007.
Growth based on innovation and services
From the very beginning, AMP VISUAL TV has specialised in television filming using OB vans and has always placed technical innovation at the heart of its services. This is why, for example, the company introduced Dolby Surround in 1996 into its sound OB vans, consequently unlocking many international markets dealing in live production.
In 2003, the company created the first French HDTV OB van and developed its RF expertise by broadcasting the first cycle race in digital RF at the Tour de Pologne.
The company's studio filming business started in 2004 with the acquisition of the fabulous Rive Gauche Studios site in the heart of Paris, and then Studios 107 in 2005. Subsequently AMP VISUAL TV acquired around twenty studios in the Paris region, including the legendary Studio Gabriel in 2008 at the bottom of the Champs Elysées, the result of a partnership with Michel Drucker.
In 2010, AMP VISUAL TV took over SOFT BROADCAST and therefore strengthened its presence in the different French regions. The agency's Lyon location now has almost 50 employees. Additionally, over time AMP VISUAL TV has built up a network of regional agencies in France, making it the main French provider of sport broadcasts.
On an international level, after assisting in creating the company E-motion in Dubai in 2009, AMP VISUAL TV started operations in Africa by creating VISUAL TV Morocco in 2010, and more recently a branch in Ivory Coast.
In 2013, AMP VISUAL TV joined forces with Gabriel Fehervari, former director of ALFACAM, to create WORLDLINX ALLIANCE, a pan-European association of RF services. This means that the company has its own relay plane, which is essential for RF broadcasting and ranks among the world's best.

During recent years, AMP VISUAL TV has enormously developed all its services relating to its filming business by expanding its services to provide graphic identity, enhancement and publication on all digital media (with its own media centre and web server).
In 2014, these new services were completed by the creation of IXI LIVE, a subsidiary dedicated to SNG transmissions.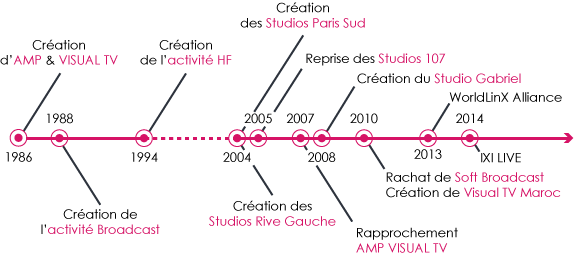 Faithful to its roots
The company's range of OB vans has steadily increased and today it encompasses around thirty vehicles. Its turnover has increased five-fold since 2004 to reach €101 million and it has a French market share of 30% to more than 50%, depending on the sector.
Technology, as well as assisting clients, is part of the company's identity and Gilles Sallé has never forgotten his past as a technician. Consequently, AMP VISUAL TV was the first in France to have a 3D truck and already has a 4K-compatible OB van.
When the company was created in 1986 by Gilles Sallé, it only had one employee (now one of the current Managing Directors). Today, it employs 500 permanent employees led by a team of five Managing Directors: Christophe Arrivé, Etienne Mathis, Igor Trégarot, François Valadoux and Stéphane Dery.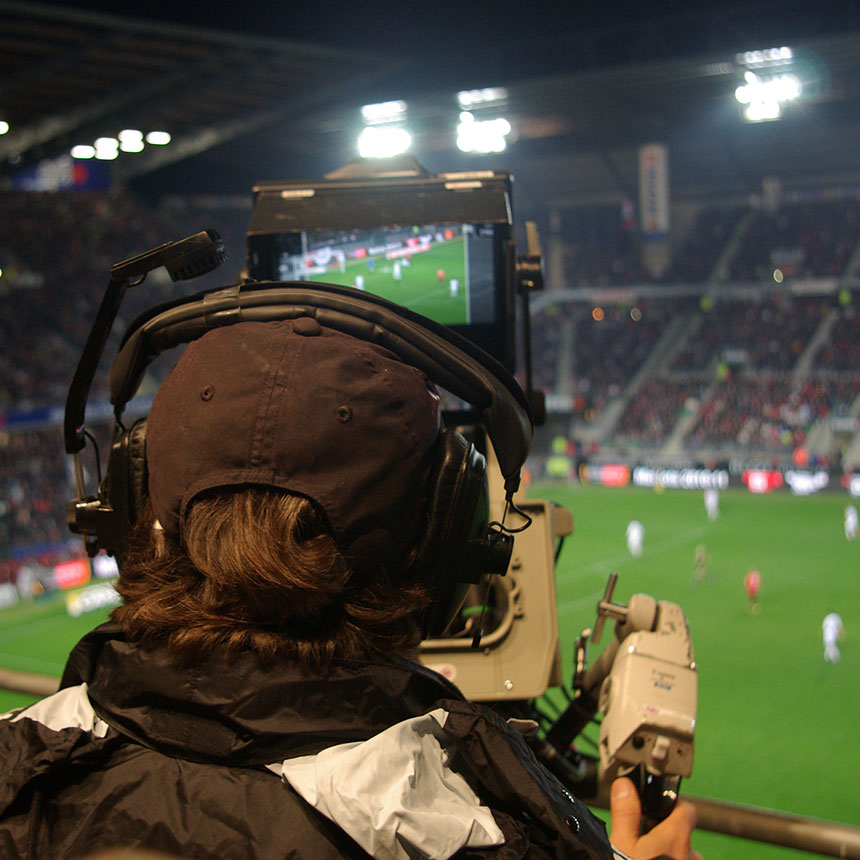 Whether it's the biggest global events, television studios or sporting events, we cultivate an extremely demanding on-air culture, a sense of adaptability and a constant desire to innovate.
Support and guidance
Each project is unique and each film shoot requires an individual approach. With one of the widest technological ranges in Europe and with our committed, imaginative and constructive technicians, we are renowned for devoting the exact same care to each filming project, regardless of its size.
Our sixty production service employees are committed to organising the 4,500 productions carried out each year with attention to detail and to the comfort of our clients.
Each production is overseen by a production supervisor (working alongside an assistant) and a technical manager. They coordinate all those involved in filming and ensure that the proposed equipment corresponds to the production's needs and is in the client's best interest.
Implicit innovation
As a key player in European television, we have the ability to devise and implement the latest innovations so that you can broadcast your programmes on television and all other screen formats (computers, mobile phones, tablets, etc.). We implement the standards of tomorrow (3D, 4K, etc.), and produce specific programmes for mobile applications.
From recording to broadcasting, we pay close attention to ongoing changes. Our R&D service, our experience, our close relationship with manufacturers and the confidence of our clients ensure we are in tune with the current trends of thought.
When our clients undergo incredible changes, we are here to guide them.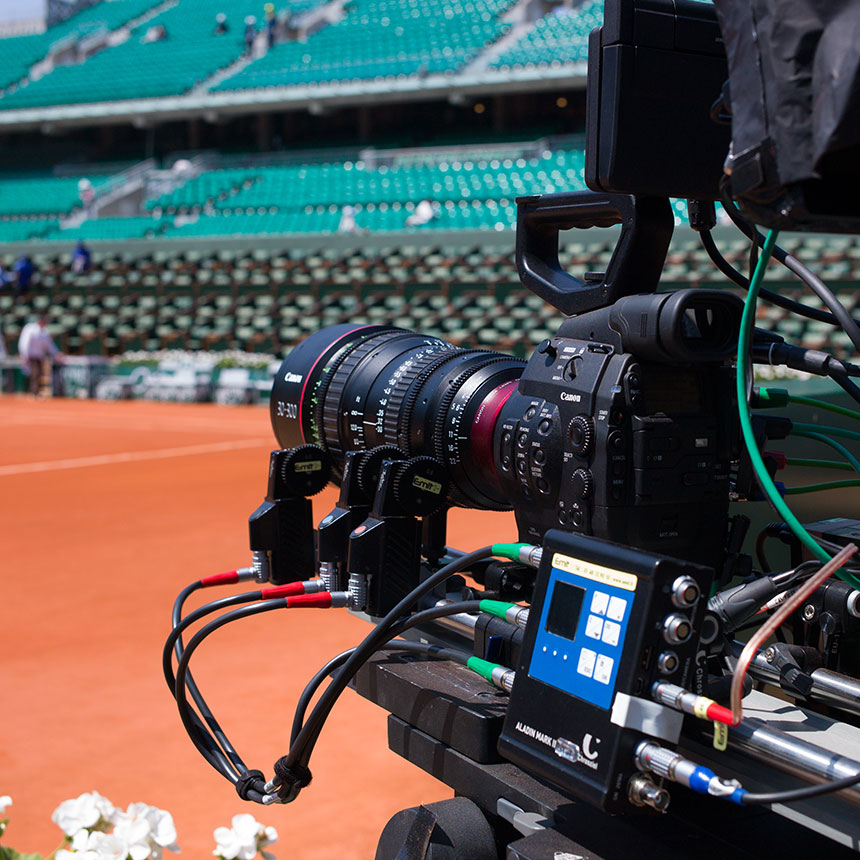 Gilles Sallé
52 years old, born on 13 January 1965
Chief Executive Officer & Founder
Gilles Sallé is the creator of AMP (1986). Today, he is the Chief Managing Director of AMP VISUAL TV and its majority shareholder.
After studying at the Ecole Supérieure de Réalisation Audiovisuelle (ESRA) in Paris until 1986, Gilles carried out his first internship at the Studio Gabriel with Michel Drucker. That same year (at the age of 21), he created his own company, Atlantic Media, in Les Sables d'Olonne to develop an audiovisual business.
In 1992 on the starting pontoons of the Vendée Globe, he met Georges Pernoud and the Thalassa teams, which constituted a turning point. The next year, the company became AMP and built its first television OB van.
By opening a Paris-based agency in 1996, with branches in Lyon (1997) and Nantes (2001), AMP developed its national activity. In 2005, AMP encompassed, in addition to its own activities, the Ivry studios (now the Paris Sud Studios) and the Studios 107 based in La Plaine Saint-Denis. In 2007, AMP took over VISUAL TV and the following year, Gilles Sallé partnered with Michel Drucker to run the infamous Studio Gabriel.
2010 was marked by the acquisition of Soft Audiovisuel's broadcast business under the same of SOFT BROADCAST.



Christophe Arrivé
49 years old, born on 1 April 1968
Deputy Managing Director

in charge of methods and processes linked to filming operations, general services and information systems.

Christophe Arrivé has assisted Gilles Sallé since the business was created in 1986. Trained as a sound engineer, he rapidly took on responsibilities in production management and in this way participated in the development of AMP VISUAL TV.

His main task today is to guarantee all internal procedures keep AMP VISUAL TV alive, through good production management and the best customer service.



Igor Trégarot
45 years old, born on 25 January 1972
Deputy Managing Director

in charge of operation management and the quality of client relations.

Since the age of 21, Igor Trégarot participated in the company's growth in several ways, before becoming head of the production service. In particular, he participated in the merger between AMP and VISUAL TV. Since then, Igor Trégarot has notably structured and organised all AMP VISUAL TV's studio activities and his current functions draw on this experience to ensure the vital link between clients and all the teams that provide video-mobile and studio filming services.



François Valadoux
46 years old, born on 5 May 1970
Deputy Managing Director

in charge of technical development.

BTS audiovisual in LYON.

François Valadoux started his career as a technician at VCF for 8 years. He joined AMP in 1998 as a van manager.

From the use of OB vans to technical management, François Valadoux has greatly participated in AMP VISUAL TV's technical development.

Previously Technical Director, his current responsibilities as Managing Director partly focus on the technological changes in the company's expertise in line with new digital advancements. He directs all the technical services and teams, and technical projects.


Olivier Gerry
54 years old
General Secretary and Deputy Managing Director of support functions
Having joined the company in 2017, Olivier Gerry oversees legal and financial services as well as human resources and information systems.
After studying at the Paris Institute of Political Studies (Sciences Po, Dauphine), and training in accountancy, he worked in a diversified public holding company, dealing with financial, legal, IT and organisational matters, before leaving for Madagascar to take up a role in the fishing and shrimp farming sector. Following a spell in mass-market retail, he went on to spent several years in the industrial engineering and microelectronics sectors, before finally joining a family-run group involved in genetic selection and biopharmaceuticals.
Olivier Gerry will bring his expertise in processes of development and change to AMP VISUAL TV.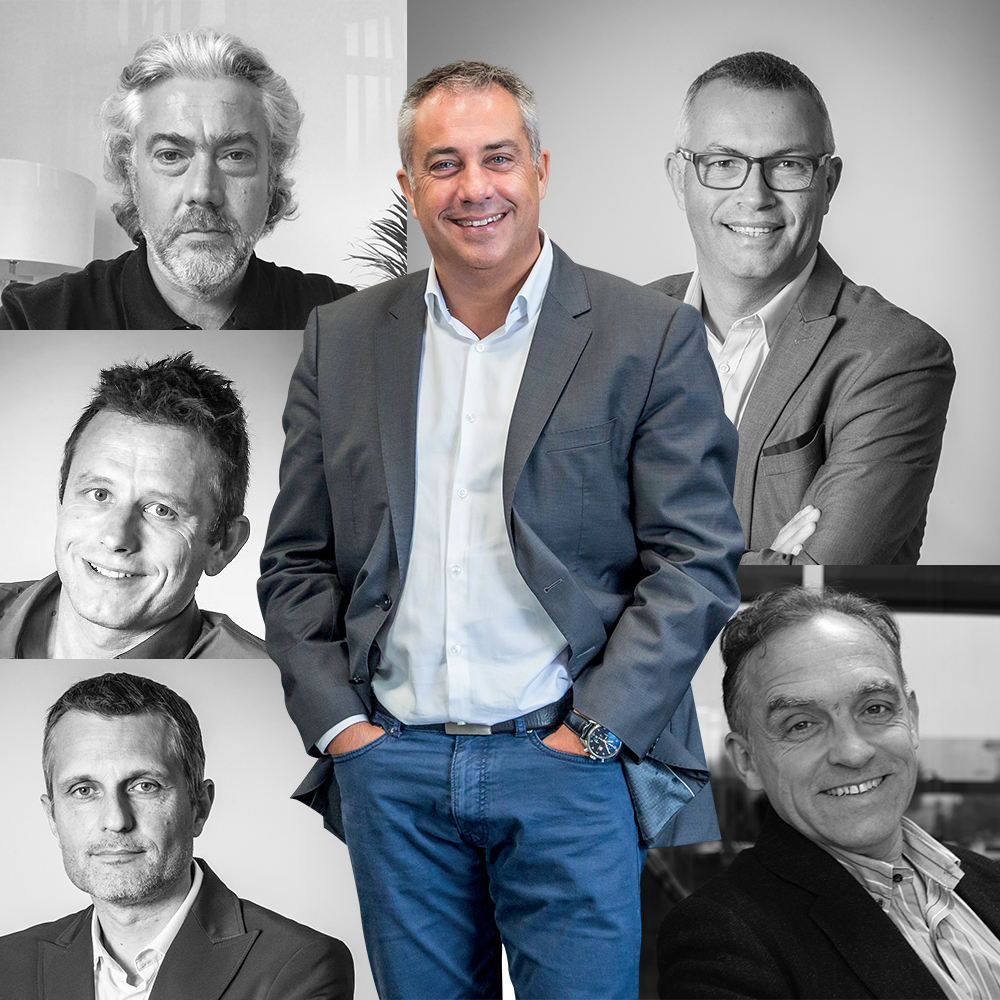 CORPORATE SOCIAL RESPONSIBILITY
After a first year of formalizing our commitments to Corporate Social Responsibility (CSR), AMP VISUAL TV renews its desire to continue the process of deploying the tools necessary for responsible conduct.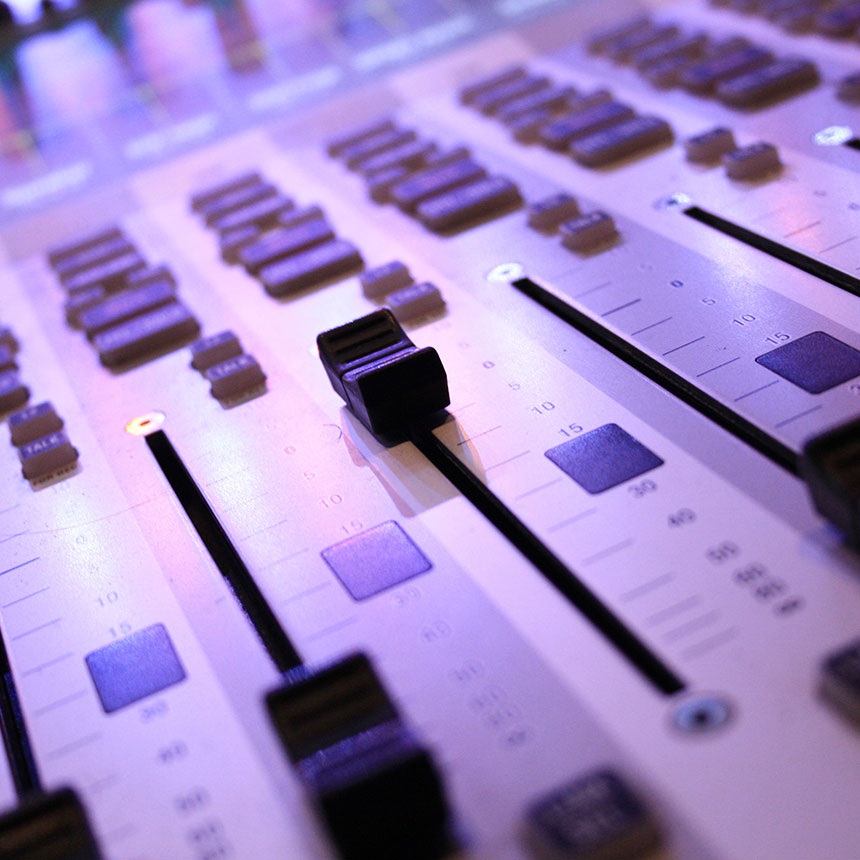 International presence
The future is built today by investing in new territories. Be they geographical, technological or organisational, we have invested in them since the very beginning.

We are developing across all continents according to these three focuses:
Moving teams and equipment for major filming projects.
Locating in countries that make regular requests.
Working with local partners.
Our locations in Morocco and Ivory Coast provide you with the necessary proximity for operations in Africa, in particular with our agency in Casablanca which has nine employees benefiting from real knowledge of the continent.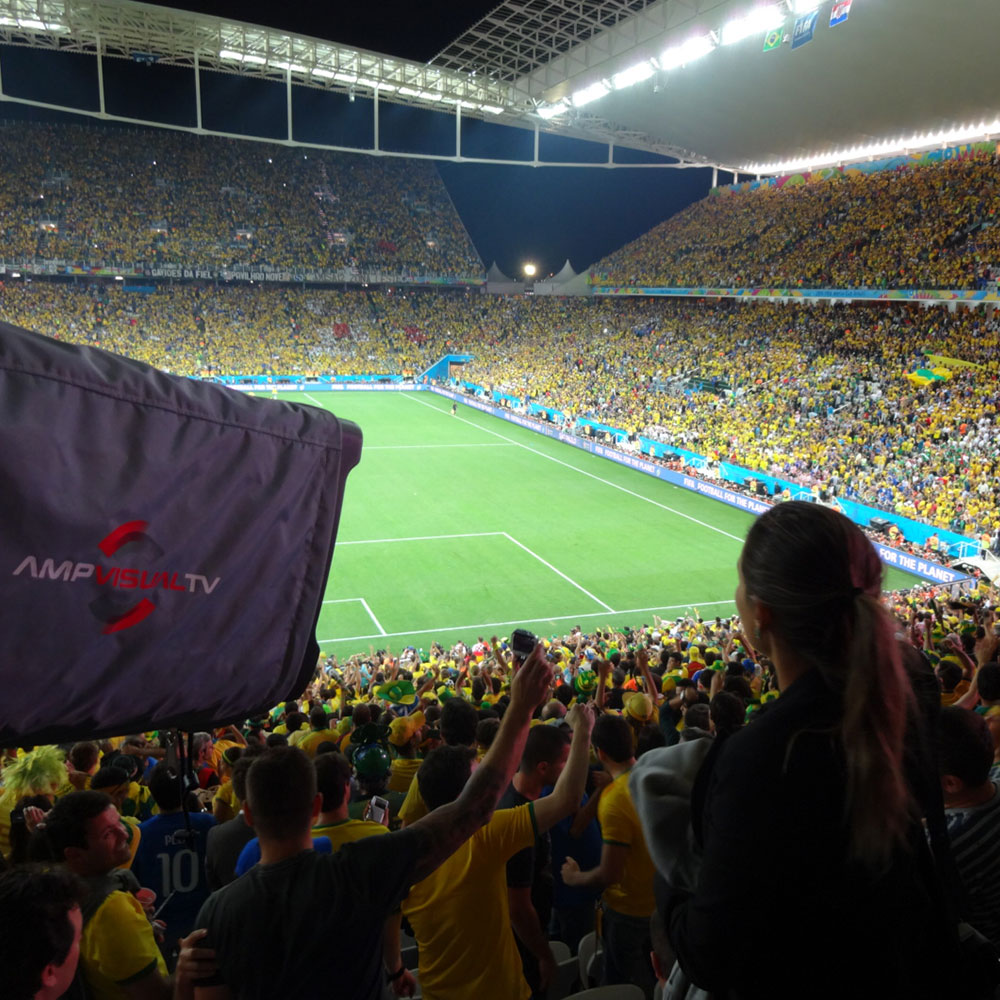 The strength of a large business
and the flexibility of an SME,
with the mindset of a start-up.
As AMP VISUAL TV has always been majority-owned and directed by its creator, Gilles Sallé, it has always based its development on one principle: being large enough to innovate while maintaining essential proximity between its teams, partners and clients.
A French main supplier and employer, AMP VISUAL TV is renowned for the sense of service developed by all its employees.
We have a stable and simple company organisation (with a maximum of five hierarchical levels) to preserve our close relationship with our clients.
A few key figures
€134 million turnover (excl. tax)
4,500 services provided per year
500 permanent employees
3,300 intermittent contractors employed every month
Throughout its history, AMP VISUAL TV has succeeded in winning its clients' confidence thanks to its mindset and performance. Today, we benefit from genuine recognition in many fields.
Key positions
French leader in sports/live performances/special operations
one of the leading RF providers in Europe
third-ranking European provider in terms of turnover
the leading fleet of OB vans in France